Keeping your pet out of the sun is essential to prevent overheating. Creating an outdoor sun shelter can be a great way to provide your cat or dog with some much-needed shade – especially if your pet is an outdoor explorer!
However, don't forget that it's always best to keep your pet cool by keeping them indoors during the hottest part of the day when they're most at risk of heatstroke. Allow fresh air to blow through the house, so your pets can enjoy the opportunity to lie on a cold, tiled floor while having access to plenty of cool, fresh, clean water.
Create a DIY sun den
Creating a sun den for your four-legged friend doesn't have to be difficult or expensive. This simple den can be made anywhere, with things you have lying around your house. It's perfect for letting your beloved pet spend some time outside whilst staying out of the direct sunlight!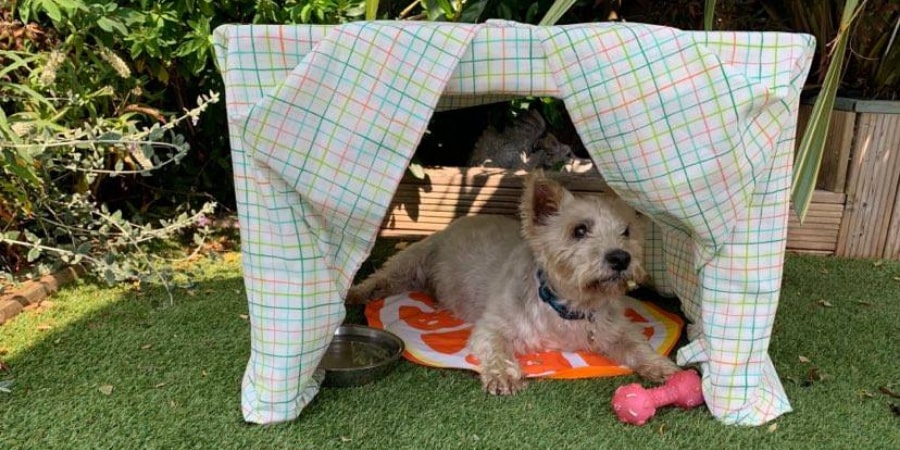 What you will need
A base for your pet to lay under – a chair, table, stool or even a sun umbrella will work well.
A large sheet or towel – try to avoid fleece blankets or sheets, as they're too thick and can trap the heat!
Optional: dampened soft furnishings or a cooling mat can help keep your pet comfy and cool while they snooze!
Step-by-step
Find a suitable place to set up your sun shelter. Keeping it out of the direct sunlight and under trees or natural shade is ideal, as it will help prevent the shelter from getting too hot inside. Just remember to be aware that as the sun moves round, you may need to move the sun shelter too in order to keep it in the shade.
Once you've found the perfect spot, take your chair, table or stool and put it in place. Take your sheet or towel and drape it over your shelter, ensuring that the sides are covered to prevent the sun from creeping in. Put the corners of the sheet under the corners of your shelter to stop it from blowing away. Remember to leave the back of the shelter open at an angle, so it blocks out the sun but also creates a through draught to prevent the heat from building up inside.
Create an opening at the front of the shelter so your pet can come in and out as they please – and if it's getting too hot inside!
Encourage them to lie in their sun shelter by placing their water, toys and additional treats inside with them. You can even provide them with a cooling mat or a damp towel to lie on, as this will help them keep cool while basking in the shade.
Watch our step-by-step DIY sun shelter video here:

Why not try making a DIY sun shelter for your small pets such as a rabbit or guinea pig too? A small shelter base such as a stool or cardboard box will work just as well, and your small pets will thank you!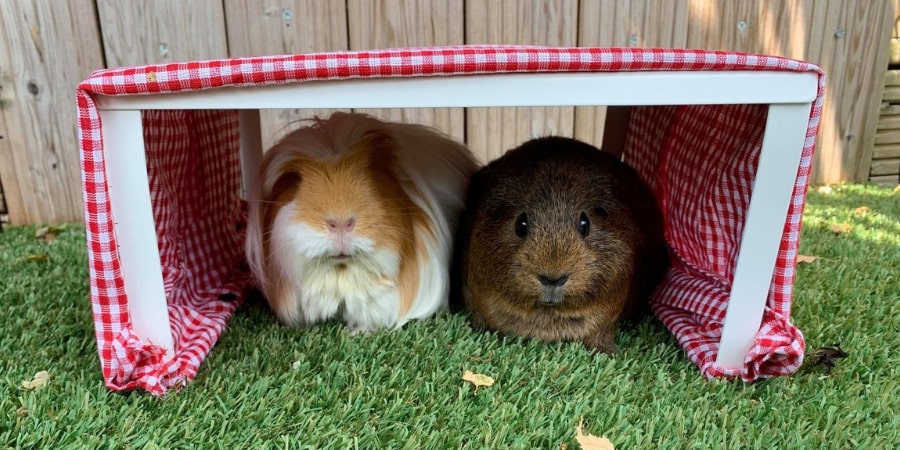 Take a look at our DIY pet cooling treats for more ideas on keeping your pet cool!