Many dog friendly festivals provide access to lots of things your dog may need on the day, such as drinking water, shade, and an on-site vet. However, this isn't always the case, so it's good to think ahead to make sure you've got your furry friend's needs covered throughout the day!
Preparation
If you're planning on taking your dog to a festival, the first thing you need to do is make sure it's dog friendly! Most festival websites will have this information readily available, so do remember to check. If you can't find the information online, you could contact the festival organisers directly.
Next, you'll need to think about whether your dog is going to enjoy the festival. Some dogs love big events with lots of people and other doggies, but others find them overwhelming or become over-excited in crowded settings. If you think your doggy might find it a bit too much, it might be best to give them a quiet day at home instead.
Once you've decided whether your dog will enjoy the event, it's a good idea to check with the festival organisers to see if they have poo bins, places to refill your dog's water bowl, shaded areas, and quiet places away from the hustle and bustle. You'll also want to prepare by checking whether there's certain areas where your dog will need to be on a short lead, or are not allowed, as well as checking for exercise areas to let your dog run off some energy. Lastly, don't forget to check where the nearest vet is, just in case of an emergency!
When attending an event such as a festival, it's good to have a back-up plan just in case your doggy needs to leave the festival early. This could be a friend or neighbour who can collect your dog, or a decision to take your dog home for a break during the day. Whatever you decide, just make sure you have the time and transport needed so you can relax and enjoy your time once the event has started!
Finally, before you start packing your bag, you'll need to check your dog is up to date with their routine healthcare. There's likely to be lots of other dogs at the event, so remember to make sure that your pup's vaccinations are fully up to date to prevent them from catching any nasty bugs – and make sure they're microchipped with your details up-to-date, just in case!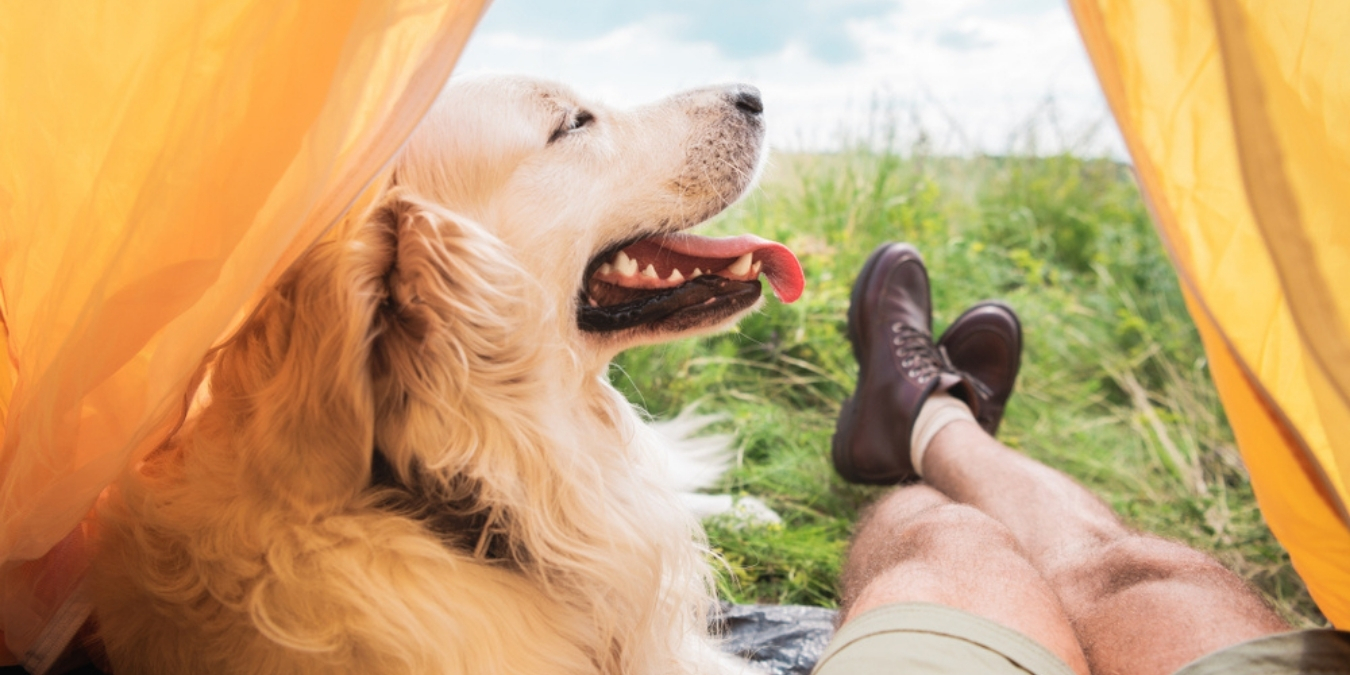 What to take
Before you head off on your exciting festival adventure, it's helpful to make a checklist of all things you and your dog may need on the day, so nothing gets left behind! Here's our list:
A water bowl and water: Consider a travel water bowl that's easy to carry.
Dog-safe sunscreen: It's important to apply sunscreen regularly to any thin haired/hairless areas on your pet, and remember to do a small patch test to check for sensitivities before applying it fully.
Collar and tags: Legally your dog needs to wear a collar and tag – if you're separated at a festival, it will help to reunite you faster!
A strong lead: Make sure you have a strong lead for your dog that can't be broken easily.
A spare towel: Even in the height of summer, you can never guarantee British weather! Bring a spare towel to dry your muddy pup if it rains.
A car crate or doggy seatbelt: Remember to make sure your dog is safe and secure when you travel.
Poo bags: An essential when you're out and about!
Your dog's food/treats: It's best to stick to your dog's normal meal times as much as possible, but having a few tasty treats to reward your pet during the day will help keep their experience positive.
On the day
On the day of the festival, it's easy to get caught up in all the excitement. With so many new sights, smells, people and other dogs, it might be a little overwhelming for your pup at first!
Know the signs of stress
It's important to be able to understand your dog's body language so you can tell whether your dog is having as much fun as you are. Knowing the signs that your doggy may be stressed – such as licking their lips, yawning and turning their gaze away – can help you recognise when it's time to find a quiet area for your pup to calm down!
Be cautious of other doggies
Remember to keep your dog on the lead at the event, and ask other owners before letting your dog approach theirs – your dog may be friendly, but you can't always guarantee they will get along with every doggie, especially if you're in a noisy, busy situation. If either dog shows any signs of stress, take your pooch away to help prevent any aggressive or stressful situations.
Keep away from loud music
Lots of festivals have loud music, but if you're taking your doggy along for the fun, it's important to consider your pup by keeping them a good distance away from the speakers. Their ears are far more sensitive than ours, so loud music can not only stress them out, it can be potentially painful and damaging to their hearing. You can still enjoy the music, but make sure you're somewhere your dog can enjoy it, too!
Protect your pup from the sun
Part of the festival fun is spending the day outdoors, so it's crucial to remember to protect your dog from the heat, especially on hot days. Keep your dog out of sun during the hottest part of the day, and ensure that they're regularly topped up with sunscreen to protect their skin. Offer them plenty of water throughout the day – and remember to learn the signs that your dog is getting too hot or developing heatstroke.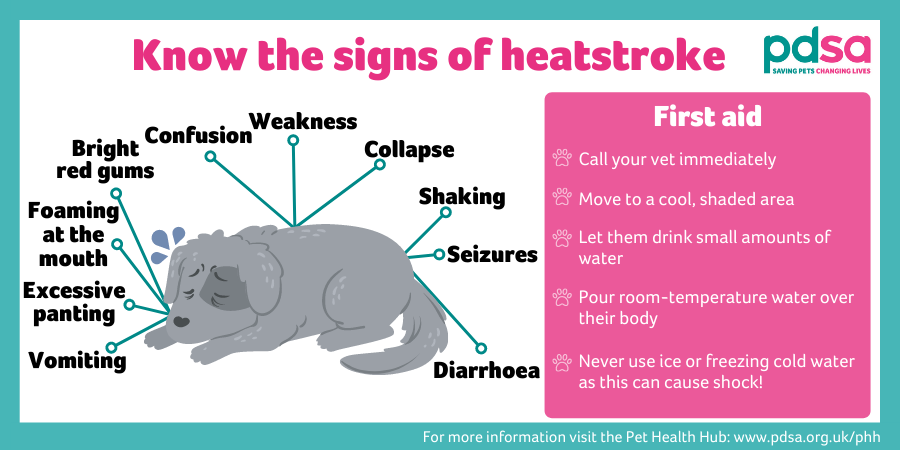 Staying overnight
If you're planning to stay at the festival for more than one day, we'd recommend finding nearby dog friendly accommodation, as they're more likely to have facilities suited to your dog.
If you choose to camp, make sure that your dog is permitted, and as it's likely to be noisier at a festival at night, consider your choice of camping area carefully. Don't forget to take a comfy bed for your pooch to help them feel at home, and remember to take an extra blanket ready for when it gets colder in the night! Never leave your dog unattended in a tent, car, campervan or caravan, as they can get dangerously hot very quickly.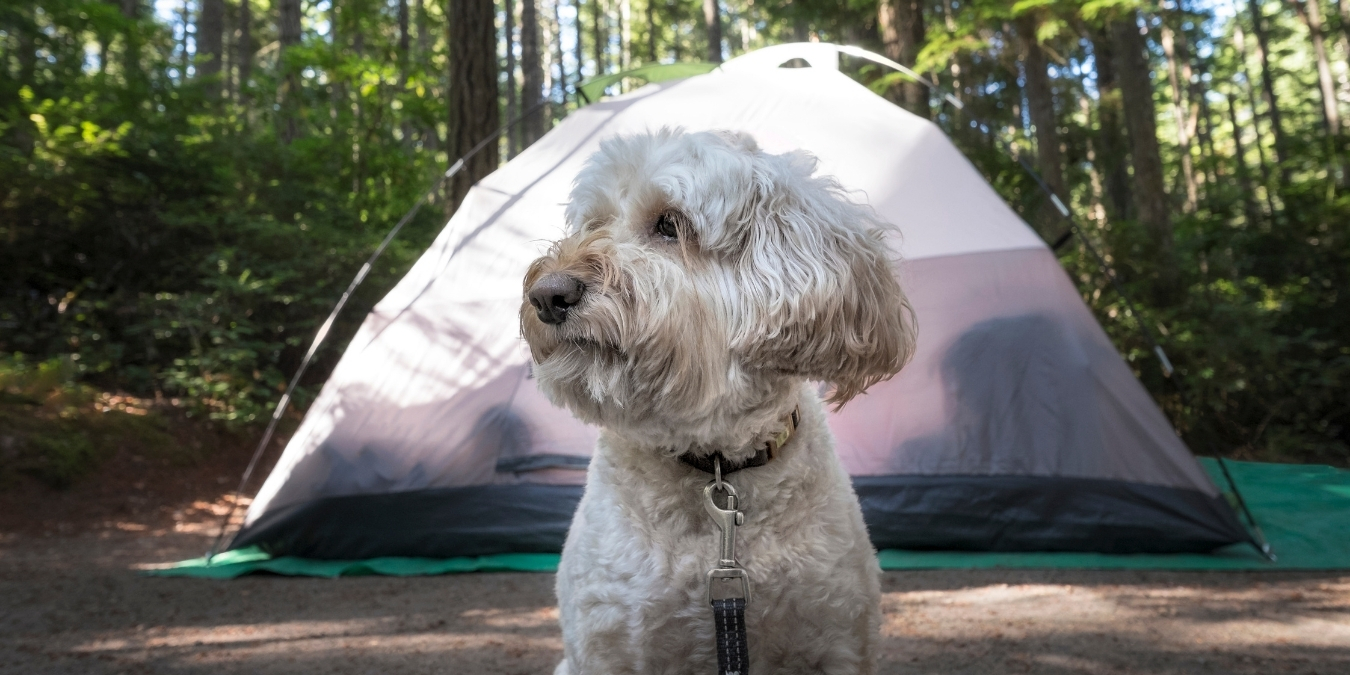 Poisons and hazards
Festivals are great fun, but there can also be some hazards for our four-legged friends. Litter in particular can be a problem at festivals, so it's important to keep an eye on your dog and make sure that they're not munching on anything they shouldn't.
Don't forget to keep your doggy away from anywhere that people are drinking alcohol, as they could accidentally consume alcohol dropped on the floor. Also, when drinking, people behave in ways they wouldn't normally, which can be stressful for dogs, so it's best to keep your pooch away from anyone who is less aware of their actions! It's also a good idea to also keep an eye on the ground to make sure your dog doesn't step on any broken glass or other sharp objects.
Finally, relax, enjoy your day and have fun!
If you're thinking about organising a dog-friendly event, get prepared with our top tips!