Should I get a puppy?
Getting a dog is a big commitment and before you start considering which dog to get, it's always important to think hard about which pet is right for you, your home and your lifestyle.
Once you've decided that a dog is right for you, you need to consider whether you're looking for a puppy or an older dog. Puppies can be hard work, especially when they're young. They'll need to learn all of their basic training, which can involve long days and sleepless nights. Although, it can also be rewarding to watch your puppy grow into the dog that will become your lifelong companion!
It's also important to remember that puppies don't stay as puppies for very long, and within a couple of months they will be starting to reach adolescence and becoming an adult – so don't forget to check how big your pup will grow before you decide on a breed!
If you're not sure if a puppy is going to be right for you, you might want to consider giving a home to an older dog from a reputable rehoming centre.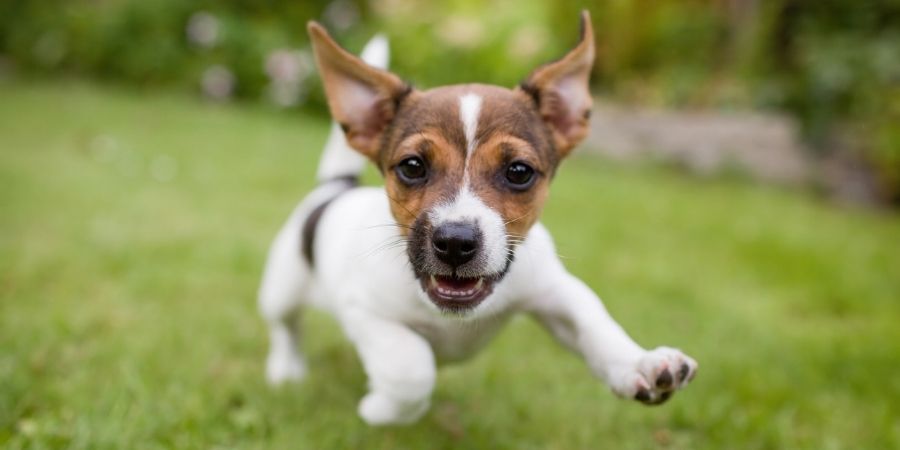 What should I feed my puppy and how much should they have?
When looking for food for your bundle of joy, we'd recommend a complete, life stage appropriate puppy food – one that's labelled for puppies rather than adults or seniors. This is because puppies need particular levels of nutrients to help them grow, and older dogs' needs are different. Different breeds of dogs also grow at different rates, so their nutritional needs also vary. Look out for specific diets such as puppy food for large/giant breeds, or puppy food for toy/small breeds.
It's a good idea to continue feeding the same food that your puppy has had at their breeder initially. If you need to change your puppy's food, make sure you do so slowly over a couple of weeks, to avoid stomach upsets.
Follow the advice on the packet for how much to feed your puppy, and if you're unsure, ask your vet or vet nurse for their advice. Remember not to feed your puppy any human food or scraps – we know it's hard to resist those puppy-dog eyes, but some human foods are harmful to our four-legged friends and can unbalance their diet!
Will my puppy need milk?
Your puppy won't need any milk at all after they've been fully weaned from their mum. It's best to stick with their puppy food and clean fresh water to ensure they get the correct balance of nutrients. Milk has lots of extra calories, so is best avoided as your pup could quickly pile on the pounds – and as most of the milk we buy is from other animals (cows, goats etc.), it can also upset their tummy!
When can my puppy go in the garden or outside for a walk?
As long as your garden is safe, enclosed with solid fences and not used by unvaccinated dogs, then your puppy can explore the garden straight away. It'll help to build their confidence, get them used to their new home, and you can start their toilet training!
Taking your puppy for their first walk is a huge milestone, but you'll need to wait until they are fully covered by their vaccinations to be safe. This is usually a week or so after their second jab in their primary vaccination course, but this does vary depending on which vaccine your puppy has had.
There may also be some places with a higher risk that you'll need to avoid for longer – often for around a month after their final vaccine – such as near rivers and farms. It's best to ask your vet when you take them in for their jabs, as they'll be able to give you exact timings.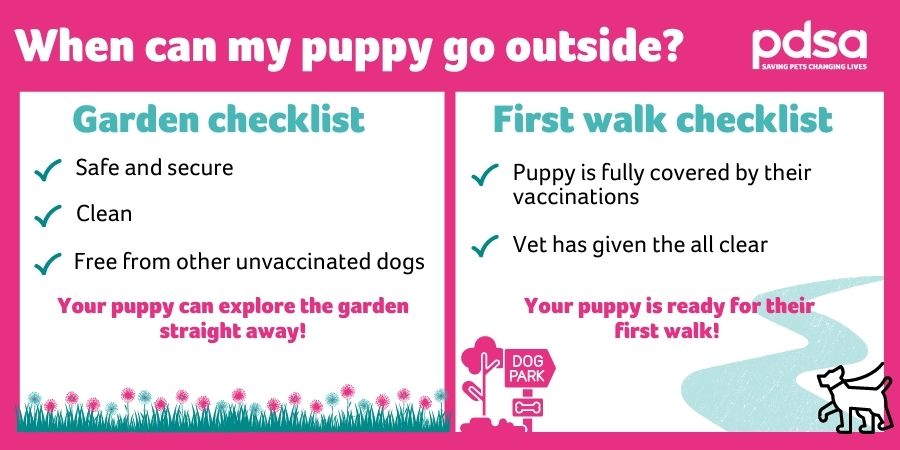 How do I toilet train my puppy?
Toilet training is a really important part of training your puppy, so it's a good idea get started straight away. Always use positive, reward-based training and never punish your puppy for toileting in the wrong place, as this could make the problem worse.
Toilet training might take time – some pups will learn in a few weeks or months, while others might take a lot longer – but it's important to stick with it and be consistent.
When can my puppy meet other dogs?
You'll need to wait until your puppy is fully covered by their vaccines before they can meet most other dogs. By waiting, you will help to reduce the risk of them getting the nasty diseases that vaccines protect against. Once you have the all clear from your vet, you can take your puppy out and about to socialise, but it's still a good idea to stay away from any dogs that have recently been unwell just to be safe.
Meeting dogs is a really important part of your puppy's socialisation, so it's a good idea to find ways for them to safely get used to other dogs while they're young. You might want to carry them round the park so they can see and hear other dogs, without actually meeting them. Avoid putting them on the ground or letting other dogs approach to keep them safe.
If you have friends with vaccinated dogs, or there are other vaccinated dogs in your household, then your puppy can start mixing with them at home straight away as long as they are otherwise healthy. Just remember to confirm that the other dogs' vaccines are up to date before arranging a meet and greet!
Once your puppy is able to meet other dogs, always ask owners before you allow your puppy to approach, as it's really important that their experiences are as positive as possible during their socialisation period. Keep your puppy close to you and on the lead when doing introductions, and watch the other dogs' body language to make sure they're happy to greet your pup!
For more information about socialising your puppy, read our vet's advice.
More questions about being a new puppy owner? We have more advice here.
Get more information about our #WeighUp campaign, which is proudly supported by Royal Canin, and download PDSA's free guide to help you set your puppy up for the happiest and healthiest start in life.